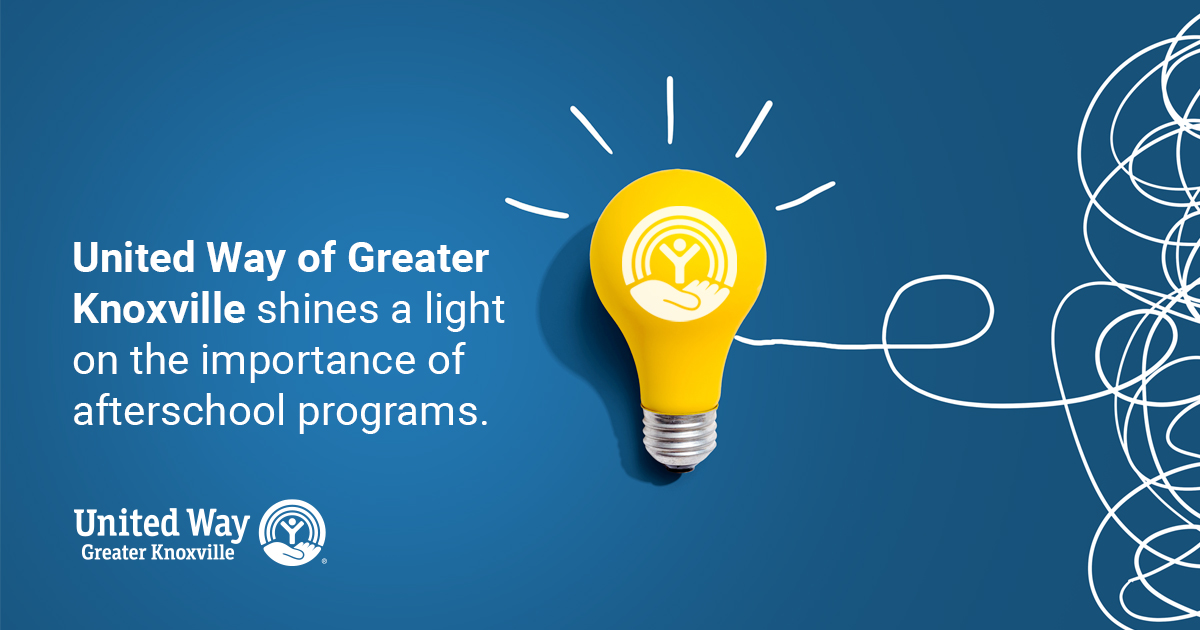 At United Way of Greater Knoxville (UWGK), we are excited to celebrate the importance of afterschool programs for children at the annual Lights On Afterschool event on October 26.
Lights On Afterschool is a nationwide event that raises awareness of the many ways afterschool programs support students and provide a healthy and safe environment for children to learn and grow. Each year, nonprofit organizations and schools come together across our community to showcase the resources and opportunities available for local families.
As an active participant in our region's afterschool community, UWGK is promoting various Lights On Afterschool events across our community to help mobilize resources and spread the word about more local programs.
UWGK has hosted and facilitated the Knox Area After School Network (KAAN) for over 10 years, providing a space for afterschool professionals to network, collaborate and access new resources and partnerships for their programs. KAAN includes over 90 afterschool professionals and many long-standing afterschool organizations such as the YMCA of East Tennessee, Centro Hispano de East Tennessee, Shades of Development, Boys & Girls Clubs and Wesley House Community Center. 
"Our KAAN meetings are all about positively supporting our community," said Jamea Beach, Early Care and Education Impact Manager at UWGK. "In our meetings, we are constantly working to create and improve a strong foundation for our kids. We are advocating together to build a support system not only in school but also after the bell rings."
Statewide, studies have shown that students regularly participating in quality afterschool programs attend school more often, are more engaged, get better grades and are more likely to be promoted to the next grade level. 
"Afterschool programs provide safe, educationally rich and engaging learning experiences for our children, while also offering invaluable support to working families needing high-quality child care," shares Ellie Kittrell, UWGK's Director of Education Systems. "We are thankful for our community's efforts to celebrate the impact of afterschool programs here in Knoxville-Knox County and beyond."
In Tennessee, there are 35,516 children across 435 communities utilizing before-school, afterschool and summer learning programs that serve high-poverty, low-performing schools. As federal childcare vouchers end and more families struggle to find quality, affordable childcare, it is now more important than ever for our afterschool programs to help bridge the gap and provide necessary resources for learning.
The City of Knoxville has issued a proclamation and will light up the downtown pedestrian bridge in yellow and blue to support the Lights On Afterschool celebration. There are many ways you can join the one million afterschool programs nationwide participating. We want to encourage you to inform your network and share on social media by using the hashtags #LightsOnAfterschool and #Unite4Change. 
To learn more and to find out about events happening near you, visit the Afterschool Alliance website and enter your zip code on the "Find An Event" page. 
To learn more about KAAN and how you can get involved as an afterschool network professional, reach out to Jamea Beach at beachj@unitedwayknox.org.