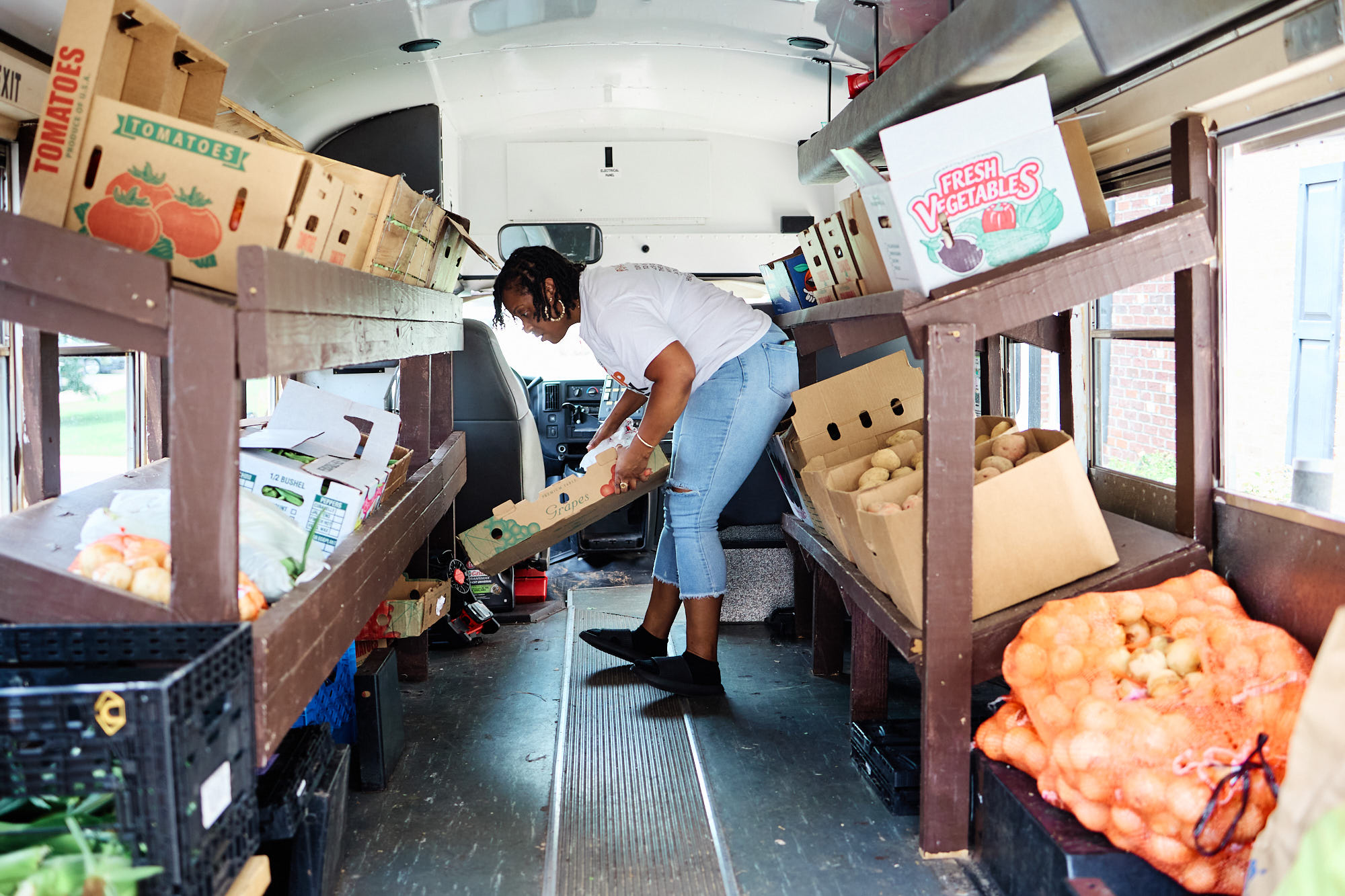 Healthy food is a basic human right. It is a crucial component of a healthy lifestyle. When individuals and families have access to quality, fresh foods, our entire community benefits. Access to basic necessities like food is the key to a thriving community.
According to a 2021 Feeding America study, 48,410 people in Knox County experience food insecurity. That means almost 10 percent of our Knoxville neighbors are living without regular access to healthy, affordable food. But food insecurity isn't spread equally across populations. In Knoxville, demographic factors such as where you live create huge disparities in food access. Your zip code, your age, and your race should not predict your overall health and well-being.
At United Way of Greater Knoxville, we are committed to creating a just, equitable food system rooted in community. We know that real and lasting solutions happen when we listen to the community we are trying to serve, so we decided to start by getting community input.
In 2021, we started working on a Community Food Security Assessment to gauge where the most pressing needs are and how people would like to be supported.
We partnered with a local research nonprofit, Three3, to design the assessment. A committee of community-based organizations across Knoxville, including but not limited to, CAC's Youth Advisory Board, the Knox County Health Department, Knox Pride, Learn Play Sign, Real Good Kitchen, Rooted East, Women with Vision and the YWCA Knoxville and the Tennessee Valley helped us disperse the survey to a diverse audience of people experiencing food insecurity. Many of these organizations are continuing to assist us in analyzing and sharing the results.
With input from over 70 stakeholders and more than 750 community members surveyed, the results provide important insights into our community's food system.
"What we learned is that food security does not discriminate," said Kimberly Pettigrew, UWGK's Director of Food Systems. "It's present all around you, it's your co-worker who is also a single parent, the nice family renting in your neighborhood and the young adult attending community college."
Though food insecurity can affect anyone, the survey found strong correlations between food access and income, transportation, and mental health.
With the rising costs of rental housing, groceries, gas and more, it is becoming increasingly difficult for low-income families to make ends meet. For people having to prioritize and balance all their bills on a limited income, it can be impossible to purchase healthy food. One issue preventing families from accessing nutritious food is transportation.
"I live in East Knoxville and transportation is a big issue," shared Jasmine Bryant, Founder of Women with Vision. "Bus stops are all on a hill, and there is no shelter. If it's hot, it's hot. If it snows, it snows. If you're in a wheelchair, how are you supposed to take groceries with you? We have got to be more accommodating to elderly people. There are so many elderly people who go hungry."
Many families struggle to find the reliable transportation they need to access grocery stores. When people are forced to rely on public transportation, walking or biking, a trip to the store is not a simple task. Families are three times more likely to experience food insecurity if they have to walk 30 minutes to the nearest grocery store, which is the case for many Knoxville-Knox County residents.
"Grocery stores close early, so if you are a single mother and you are getting off that second shift and you don't make it to the store on time, you are out of luck," explained Bryant.
When people can't access healthy foods for their everyday meals, they are missing out on some of the valuable nutrients their bodies need to thrive physically, mentally and in life. According to the National Institute of Health, people living without regular access to fresh foods are at higher risks for health complications, including mental health issues.
Erin Rose, Vice President of Social Equity at Three3, said, "One of the findings from this assessment was that people who are food insecure are also experiencing poor mental health. Food insecurity impacts our being, our mental health."
Rose helped unpack what this assessment means for us moving forward. "Throughout the assessment, every time we learned something new, we also learned that there is something else we don't know." As we continue finding our knowledge gaps, we also need to continue letting community members speak into those gaps.
By asking people what food security means to them, we have started to shift the power to the people, creating a space where they can have input into how they are being served.
Our goal is to create a just, equitable food system rooted in community to ensure all our neighbors have access to affordable, nutritious and culturally relevant foods. We will continue working alongside community members and food system leaders and experts to support sustainable, resilient and self-sufficient communities.
When we Unite for Change, we build better lives – where community residents, stakeholders, policy makers and change leaders all have a seat at the table. Join us today to unite for a just, equitable food system.
The full report from the Community Food Security Assessment is forthcoming, and community sharing events are being planned for Spring 2024. Keep checking our website for more information. To learn more about UWGK's commitment to food security in the community, visit our health and food page.