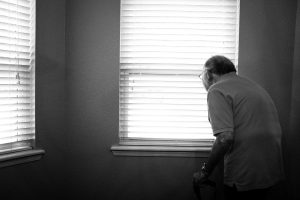 Struggling with mental illness, Ed had been homeless for over 20 years. He wandered the streets in search of food and slept in doorways of abandoned buildings. Through tireless and compassionate outreach efforts of a Volunteer Ministry Center (VMC) case manager, Ed's life began to change.
The VMC case manager helped Ed gain access to programs like Minvilla Manor. Minvilla Manor is a United Way funded program that offers a permanent housing opportunity for single residents that are experiencing homelessness. It provides a moderate supportive environment to former chronically homeless individuals. These supportive services are "in-house" which provides assistance and empowerment to every resident with the objectives of long term tenancy and securing a healthy lifestyles. With help from his case manager and VMC, Ed soon began to develop trust and accept help. Soon, Ed was able to secure housing at Minvilla Manor and no longer had to worry about where he would spend each night.
After securing housing, Ed's case manager helped Ed adapt to a healthier lifestyle. In order to establish meaningful relationships for Ed, his case manager introduced him to a group through Compassion Coalition Circles of Support. He began to thrive socially. He attended events and activities with his group, became of the Circle's Church, and was considered a true friend until his death of natural causes in 2016. A member of his circle of support mentioned that he was very fortunate to be a part of the welfare of Ed.
United Way of Greater Knoxville is proud to support programs like Minvilla Manor that help people like Ed. Together, we fight for the Health, Education, and Financial Stability of every person in our community. Change doesn't happen alone. To live better, we must LIVE UNITED.