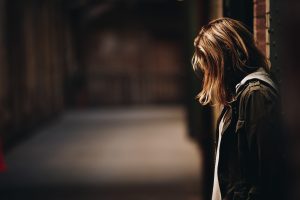 Just a few years ago, Sandy was an excellent student, living happily with her parents and grandfather and enjoying her time in high school. When Sandy became sexually active during her junior year, she was confronted with an unplanned pregnancy. Not only was she plagued by anxiety and worries, but Sandy was also abandoned by her friends, and her once-close relationship with her grandfather rapidly deteriorated. After she gave birth, Sandy's efforts to heal her relationship with her grandfather were cut short by his sudden death. Dealing with the stress and loneliness following these events, Sandy began abusing marijuana, prescription drugs, and other illegal substances.
Due to her substance abuse, Sandy began skipping school and ended up being arrested on drug charges. After running away from home, Sandy was found by police and was referred by the Department of Children's Services to the Florence Crittenton Agency's Youth Services, where she received treatment for mental health issues and substance abuse and enrolled in the program's parenting classes.
During her months at Youth Services, Sandy learned parenting and life skills and how to cope with stress without the use of drugs. She also studied hard and earned her high school diploma before she was discharged from Youth Services. We are proud to say that Sandy enrolled in college for the 2016-2017 year,  ensuring a bright future for both her and her baby, thanks to the support and aid she received from the Youth Services program.
United Way is proud to support the Florence Crittenton Agency and its subsidiaries, and donations to United Way fund many similar programs that help out young women just like Sandy. Together, United Way and its many partner agencies fight for the Health, Education, and Financial Stability of each person in our community. Change doesn't happen alone. To live better, we must LIVE UNITED.