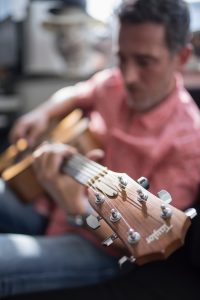 George has had a long history of severe anxiety and bipolar disorder. As these issues grew in severity, they led to problems with his family, resulting in George becoming homeless in 2012. He tried to work, but because of his untreated mental health issues could never keep a steady job.
George was jobless, homeless, and hopeless when six months ago he started getting medical and financial help from the Volunteer Ministry Center and signed a lease at Minvilla Manor. When he first moved into his new apartment, George still struggled with his mental health- he avoided his case manager, missed his appointments, and sat isolated in his home.
After a few months of stable housing, community events, and gentle "but persistent" aid from his case manager, George began to turn things around. He developed a trusting relationship with his case manager, attended all of his appointments, and began discussing his mental health struggles instead of avoiding them.
In working through his mental health issues with a support system behind him, George has found new happiness in his life. He regularly socializes with his neighbors and enjoys playing the guitar and going to UT games. Instead of fearing the future, George now embraces it and the life he has built for himself.
United Way is very proud to support and help fund programs like the Volunteer Ministry Center that help the people in Knoxville in need. By giving to United Way, you're supporting countless programs that help treat people with mental health issues and get them back on their feet. Together, we fight for the Health, Education, and Financial Stability of every person in our community. Change doesn't happen alone. To live better, we must LIVE UNITED.