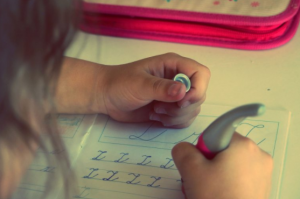 By the summer before Hadassah's second grade year, she was reading at grade level for over 20 minutes on her own!
First grader, Hadassah, was struggling to identify letters and could not read at grade level. She had difficulty staying focused, which made it hard for her to finish her assignments and keep up with the rest of her class. In hopes of helping Hadassah progress in her education, the Emerald Youth Foundation's Inner-City Learning Initiative Program paired Hadassah with a tutor, Tammy.
Meeting two or three times a week, Tammy helped Hadassah with her academics, and offered words of praise, and encouragement to help her succeed. Over the course of the year, Hadassah's self confidence grew and she made significant improvements. Hadassah started focusing longer on assignments and continually gave more and more effort. Soon, Hadassah gained enough confidence to start sounding out words on her own- without any prompting.
The United Way of Greater Knoxville supports programs like Emerald Youth Foundation's Inner-City Learning Initiative because we believe that Hadassah and all people deserve the opportunity to succeed. That is why the United Way of Greater Knoxville fights for the Heath, Education, and Financial Stability of every person in our community. Change doesn't happen alone. To live better, we must Live United.