The Hackathon for Early Care and Education, sponsored by the United Way of Greater Knoxville, brought creators, planners, developers, logisticians, marketers, agencies, and others together to find solutions to the question: "What will it take to increase access to mental health support for young children and the adults that care for them?"
New data suggests that Tennessee's children are in the midst of a mental healthcare crisis. The state reports that children struggling with depression and anxiety have reached unprecedented levels and Tennessee has been ranked 36th nationally for child well-being. United Way of Greater Knoxville has determined that community alignment around early care and education, specifically mental healthcare access, is an urgent need.
The event was part of the Unite for Change initiative and offered a new approach for bringing our community together to solve big social issues. 
The challenge for teams: Develop innovative ways to increase access to mental health supports for young children and the people who care for them.
Questions Teams attempted to answer with their proposed solution:
What is limiting access to mental health resources for young children and the adults that care for them and what can we do to remove that barrier

How do we improve awareness of mental health needs for young children and the adults that care for them? 

How do we connect all the organizations in the Early Care and Education system around mental health resources for young children and the adults that care for them, so we leave no gaps in the region? 

How do we ensure the equity when considering access to mental health resources for young children and the adults that care for them?  

In what ways can strengthen the Early Care and Education workforce that provides mental health services to young children and the adults that care for them?
Muse Knoxville, Centro Hispano, East TN Freedom Schools, Friends of Literacy, TDS Exhibits and UTK TPTE, will provide a non-clinical, safe space for children and caregivers and allow them to explore emotions and coping skills backed by science, sharing the brain and body connection.
Together, they will provide safe ways to handle and increase confidence and mental health as children and their caregivers explore different emotions and feelings. They will center the importance of social emotional learning for both children and their caregivers through play-based exhibit programming on-site, take-home SEL kits that explore emotions and engineering, as well as family memberships, community group meeting sessions and more.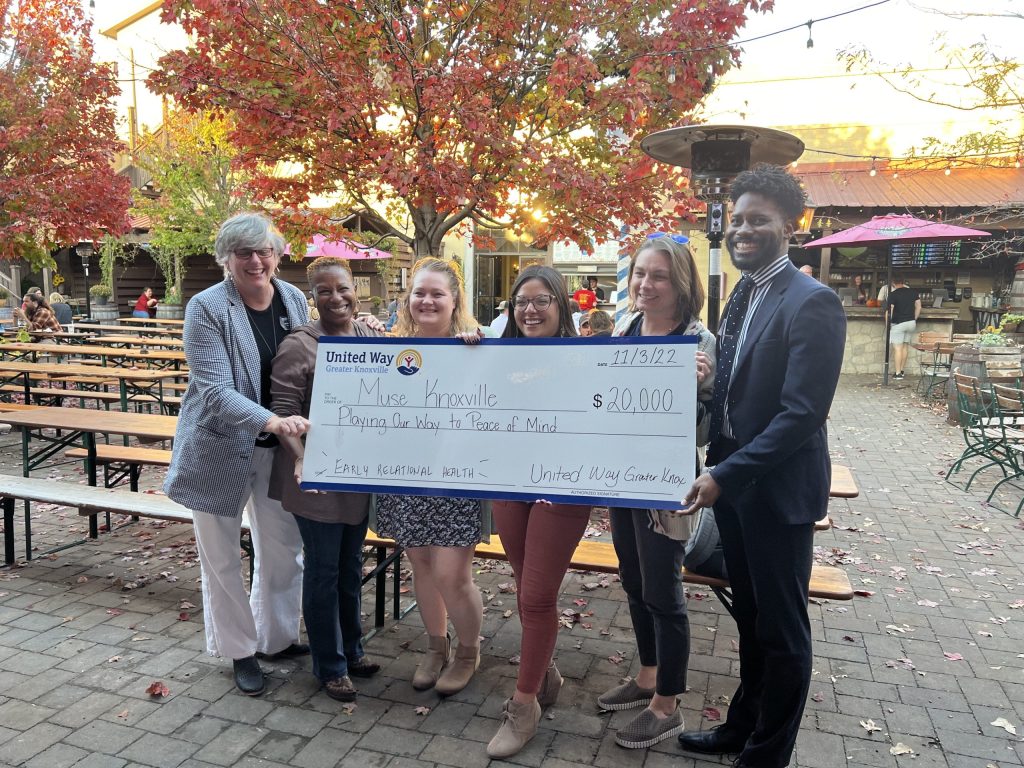 Infant and Early Childhood Mental Health (IECMH) is the capacity to love well and learn well. Educators are often the first professionals who recognize concerns in a young child's social-emotional development. A young child's behaviors in a classroom may quickly communicate difficulties in engagement with peers, trusting adults, and understanding the world at large.
Research has shown that IECMH Consultation increases educator efficacy, decreases in-school and out-of-school suspensions, and increases academic efficacy for a child's life-long learning career.
The AIMHiTN collaborative's submission proposed an IECMH Warmline to begin meeting the profound need for Consultation statewide, which would develop a four-prong approach that would include awareness, outreach, service delivery, and data collection, all grounded in a lens of diversity, equity, inclusion, and belonging.
East Tennessee Pediatric Trauma & Relational Health Symposium would provide medical practitioners with a deep awareness of the impacts of trauma and relational health issues, increasing their ability to provide timely referrals to early intervention services and increasing awareness of the variety and scope of available services in East Tennessee. Clinicians would leave the event with a simple, effective screening tool that could be implemented in their practice the next day.
This symposium would meet parent needs by allowing medical practitioners to provide their patients with free, developmentally-appropriate, and non-stigmatizing parenting support from trusted professionals.
Inequities would be addressed by providing pediatric medical providers from all practices, free access to engaging, and practical training focused on the neuroscience of development, as well as its application. 
The children of refugee and recent immigrant families are at especially high risk and in need of early intervention. Those who work with these children directly need trauma-informed training, as well as a network in place to refer children and families to mental healthcare providers. Additionally, there is a broader need to educate refugee and recent immigrant families on the value of mental health and the resources available in the Knoxville community. These families must be advocates for their vulnerable children and partners in seeking solutions.
The Center for English and Integration Services collaborative's idea would promote mental health and early community-based intervention for the children of refugees and other recent immigrants in the greater Knoxville area through trauma-informed training for childcare staff, and networking with mental health providers and Knox County Schools to ensure long-term positive outcomes
There is a dire need for mental health counselors who can communicate with non-English speaking children and families in their native tongues, who are accessible to youth who face transportation barriers,  and who can implement culturally responsive therapy.
Counseling  can have an immense impact on the lives of  students and their families. The Thrive collaborative's idea included the education of their current staff and mentors on how to respond to students and families who are facing a mental health crisis, training on how to connect non-English speaking families with resources in their native languages, and an infrastructure for sustained support to provide ongoing mental health resources. 
The Muse Knoxville collaborative was awarded a $20,000 grant to move their concept forward to the next step towards implementation. All teams were evaluated using the following criteria. 
Innovation & Creativity
Does the concept demonstrate that the team thoughtfully brainstormed the issue and brought new ideas and thinking? Did the team provide an innovative way to overcome barriers for those who struggle to access mental healthcare supports, particularly in marginalized communities?
Equity
Does the solution ensure greater equity in the early care and education system? As a result of this approach, will the community improve its ability to reach marginalized communities? Will we engage individuals and grassroots organizations within neighborhoods to ensure we reach those who need mental health and relational services?
Collaboration
Does the solution engage at least 3 and potentially more entities, including a Lead Nonprofit Agency with 501(C)3 status? Did the team include nonprofits, businesses, government agencies, volunteers, donors and others? Were non-healthcare centered agencies and organizations included as part of the solution?
Impact
Will the concept make a big difference in Knoxville's early care and education system, providing mental healthcare and resources for those who need it? Once implemented, will the impact be felt by Knoxville's marginalized communities? Has the team taken into consideration challenges such as language barriers, physical limitations, geographic reach, etc.?
Executability
How easily can the concept be implemented? Does it encourage collaboration and does it engage organizations across the early care and education network? Does the cost of the concept prohibit implementation? Can the concept be executed immediately, or can it be done in phases?