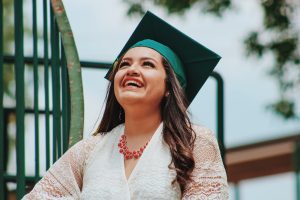 Teenager Ava lived a normal, happy life- getting good grades, hanging out with friends- until her mother began using methamphetamines. Her mother's addiction caused Ava's family to fall apart, and the new burden she had to carry at such a young age eventually caused Ava to begin using methamphetamines herself. She began to skip school, lie, steal, and became addicted to drugs. The meth caused Ava to become anxious and paranoid, and while continuing to steal, she began dating an adult drug dealer in the town. By 17, Ava had been charged with theft, assault, and possession, and was on probation when she was placed at the Helen Ross McNabb Center's Katie Miller Residential Center.
The Center offers residential treatment to teenage girls with mental health issues, substance abuse problems, and co-occurring disorders. Once at the Center, Ava began attending individual therapy and sessions with her father, and these sessions motivated her to begin studying to take her GED. Along with therapy, Ava began medication and went through drug and alcohol treatment for her substance abuse. Realizing they were bad influences and harmful to her recovery, Ava cut her mother and boyfriend out of her life and focused on her own journey. After weeks of work and progress, Ava got her GED… on her first try! Her father was able to come see Ava graduate at the facility and celebrate all the progress she had made.
United Way is proud to support the Helen Ross McNabb Center and sponsor programs like the Katie Miller Residential Center that help the young women in Knoxville. Donations made to United Way fund programs that help heal people, families, and communities. Together, we strive toward the Health, Education, and Financial Stability of the people in Knoxville. Change doesn't happen alone. To live better, we must LIVE UNITED.