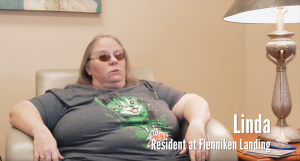 Linda, a Flenniken Landing resident for the past two years, is reuniting with her younger sister for the first time in nearly thirty-five years. Recently, Linda's sister Susie wished her a happy birthday and the two begain talking and planning for a Thanksgiving reunion trip. Linda came to Flenniken after being homeless for 13 months. Flenniken gave her the stability she needed to make this family connection.
Linda has seven siblings, but was closest to Susie while growing up in Ohio. When Susie moved to California in 1983, the two lost touch. About a decade ago, Linda joined Facebook, found her sister, and has been keeping in touch ever since. For Linda's birthday this year, she received a Facebook message stating that Susie's husband had been planning for Linda to visit their home in Lancaster, California over the Thanksgiving holiday. What was originally scheduled to be a short visit quickly turned into a three week trip.
While Linda is scared about her first "big plane ride" she is excited to connect with family. She has spent the past few weeks making sure she knows all the ins and outs of traveling by air. Linda's dad used to fly Cecina planes when she was young and she grew up traveling around the United States. She loves to travel, but has not been able to in years.
When Susie let her know she would be traveling to California by airplane, Linda's first response was a big, "NO." However, the flight is the only aspect of the trip that frightens her. On a scale of one to ten (ten being the most excited she has ever been) Linda is "off the charts". She is thrilled to visit California, but her main goal for this trip is to get to know Susie again.
The struggle with homelessness is often fraught with trauma, chaos, and loss of social support. As chronically homeless individuals move into Flenniken Landing, one of our primary goals is to quickly stabilize their existence through an environment of safety and support. As stability is established, we have found that our residents rather naturally rebuild healthy relationships and gravitate toward health. We are proud of Linda and hope she has safe travels to California then back home to Flenniken.
Flenniken Landing houses 48 individuals who now call Flenniken home, 27 whom have lived at our facility for over two years. For more information about the programs of Flenniken Landing, contact Chris Smith at csmith@klf.org.